COMPOSITION and CHARACTERISTICS

The Grape Juice Concentrate is a liquid product with high sugar concentration and other natural compounds of the grape, whose main characteristics are:
* Transparency
* Amber Color
* Physicochemical Stability
* Characteristic aromas
* High viscosity
* Sucrose free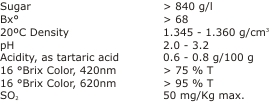 The Grape Juice Concentrate is obtained through the crushing and pressing of the grapes, which has simple grape juice as a result. Then sulphur dioxide (SO2) is added and exposed to diverse fractioning processes in order to obtain a free-solid liquid. This product goes to an ionic exchange treatment, desulfitation and concentration obtaining a product composed mainly of glucose, fructose and other compounds present in the raw material.

Grape Juice Concentrate may be used as a sweetener for various products such as, jams, juices, wines, grape juice enrichment and also in the production of wines where it is permitted.