COMPOSITION and CHARACTERISTICS

The Grape must concentrate is a liquid product with high sugar concentration and other natural compounds of the grape with the addition of alcohol obtenined from wine destilation, whose main characteristics are:
* Transparency
* Amber Color
* Physicochemical Stability
* Characteristic aromas
* High viscosity
* Sucrose free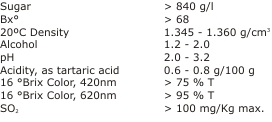 The Grape Must Concentrate is obtained through the crushing and pressing of the grapes, which has simple grape juice as a result. Then sulphur dioxide (SO2) is added and exposed to diverse fractioning processes in order to obtain a free-solid liquid. This product undergoes processes of desulfitation and concentration obtaining a product composed mainly of glucose, fructose and other compounds present in the raw material. Before packaging alcohol obtained from wine destilation is added.

Grape Must Concentrate may be used in the production of wines where it is permitted.